The
LONDON DERRY HOTEL
ROCK FROM PARIS, FRANCE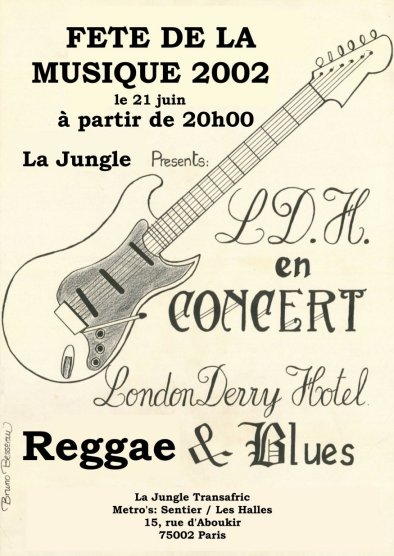 The Story
The Story of the LDH, as we call ourselves, startet about 7 years ago. Former Alain Cherrier and Bruno Boullault grown up together in a little village called ROMORANTIN, which is in the center of France. They played in the garage of Alain's parents with some friends. This was their first band called "Les Nothing". What does not mean, that their music was crap. Later, Alain and Bruno (we call him BB Bass) left to the big adventure. They moved to Paris and had lots of women. Alain found a cool place outside of Paris. A Foyer with about 200 young people. Man, I tell you, but this was a crazy place. Well, and what a wonder, I lifed there too, 'cause I just came from Switzerland to France to learn some french. So, one day he catched me at the entrance with my guitar. "Do you play music?" What a stupid question, "no, I am carring my big gun in there, ha, ha, ha !!!" Well, we became mates immediately. So, we spended lots of time in those little rooms, drinking beer and playing the guitars. Then pretty soon he presented me to his old neighbour and best friend BB Bass. Joined by a first Drummer called Eric, replaced immediately by our beloveded DRUMMER, Singer and Songwriter EDO, the London Derry Hotel was ready to take off.
So we had 4 years of a big time you can't imagine. Lots of fun, lots of jams, some really good songs and a couple of gigs.
Then EDO had to stop the drums. We couldn't do the laud thing anymore and we didn't wanted to play with another drummer. So we did set the band on ice and just played jams at the bandmember's homes.
Now, for about 3 years we did not perform on stage and now we're back for fun. BB Bass plays the drums and Alain the bass.
........ Time has past since the last lines. We're in the year of 2001 now and still playing ....... sometimes. We try to record the songs and we get a chance to play about every 6 months in a show. Edo is smashing. We had a big and stormy newyear's eve in 1999/2000, with Alain, Stef, JP, Maud, Pouet, Christelle, Yeal and Marie ! And then we had a great birthday jam on the 10th February 2001 at Michel's Restaurant "Le Louvois" in Velizy. That was a very wicked evening !
More news later !!! See you soon !!!